We know that we said it recently, but we just wanted to make sure you haven't forgotten: the Samsung Gear S3 is one of the best smartwatches ever made and if you're lucky enough to own one, we must admit that we're a bit envious.
However, instead of continuing with expressing our feelings towards owners, today we want to talk about ways of customizing it.
No, we're not talking about custom watch faces, but the best Gear S3 leather bands, perfect for giving the smartwatch a personal touch and match it with various outfits with ease. Let's see what we found.
Don't forget to check out the best Gear S3 screen protectors, charging stations and apps.
Here are some of the best replacement bands for Gear S3:
First, we have a genuine leather strap, with a contrasting stainless steel buckle that ensures stability and ease of use.
It's fully adjustable, so it stays firmly around your wrist. The material is very soft and feels good on the hand, but the best part about it is that it's available in four colors, including Black, two shades of Brown, and Coffee. And it works with both Classic and Frontier models!
Even though it's presented as a replacement watch band, you might as well get it as a secondary strap, especially if you opt for the Brown version, since it complements the watch perfectly and it can go great with various outfits!
The band is made of genuine leather, providing a very comfortable wearing feeling, and it's fully adjustable. It comes with quick release spring pins, so anybody can install or remove it. Besides the Brown version, you can get it in Black as well, another color which looks excellent on this smartwatch!
The folks over at MoKo make one of the best Gear S3 leather bands if you ask us, mostly due to the crocodile pattern on it, which looks incredibly elegant and offers a classy look.
A stainless steel buckle clasp make sure the smartwatch is staying on your hand all day long, while the smooth finish is very comfortable, so you will completely forget about the fact that you're wearing a watch. You can get it in Black, Brown, Dark Blue, Red and White.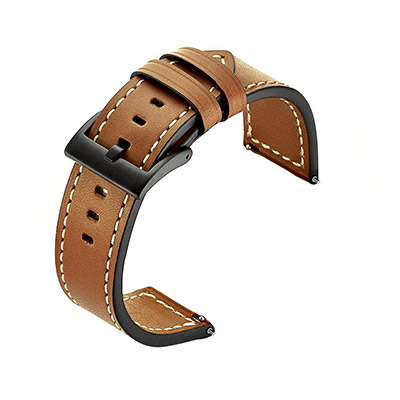 Another great looking Gear S3 leather band can be bought from Kartice! This classy model , combining functionality and style, feels and looks great, not to mention that it's very easy to install. It's made from premium leather, available in some very interesting colors, and it features quick release spring bars, basically being plug and play.
Next in our top comes a Gear S3 leather band which is pretty much perfect for any occasion, according to its manufacturer, but if you ask us, it goes incredibly well with an elegant outfit.
Available in Black or Brown, Loxan's strap is great for personalizing your smartwatch , featuring a stainless steel black buckle and being made of genuine, minimally treated leather. As for the installation method, it's very easy, thanks to the included spring bars.
If you want to make your Gear S3 stand out a bit, you definitely need this strap! Made of premium, soft genuine crocodile leather, it feels very comfortable on your wrist, also being anti-slip and sweat absorbent.
Besides this, it's equipped with a solid, stainless steel buckle, which will definitely last for many, many years. As for the colors it's available in, you can choose from Black, Brown or a very interesting Red model.
Finally, out 'Best Gear S3 Leather bands' top is completed by classy genuine leather model, available in several colors, like Black, Brown, Light Brown, White, Red or Navy, fitting both the Frontier and Classic variants of the smartwatch.
It's very easy to install and, thanks to the metallic metal clasp buckle, you don't need to worry about the Gear S3 falling off from your hand. A very nice alternative, if you ask us!
And this is where our list comes to an end, ladies and gents! Above you can check out seven of the best Gear S3 leather bands, perfect for every style and budget. Ok, they're made of leather, so they're mostly for elegant outfits, but hey, everybody has its own style, after all!
As for our favorite model, we'd go with MoKo's soft premium leather band, since it looks incredibly well, while the material it's made of is definitely high quality and won't wear out quickly. But this doesn't mean that the others are bad!
What about you guys? Which leather band would you choose for your Samsun Gear S3? Let us know, by dropping a few lines in the comments section below!