We've said this several times and we're going to keep saying it: It's almost impossible to live without your phone nowadays, no matter where you are. Seriously, even when you're moving around, whether it's by car or bike, you still find a lot of great uses for it.
But speaking about bikes, unless you're very good at walking with just one hand, we can't see any way of using it. But this can be a bit risky, since you can easily drop the phone like this. And who wants to drop a new phone, let's say, like the iPhone 8?
Well, it looks like we're actually wrong, since there are a lot of great bike mounts you can buy, able to hold your phone firmly, so you can use some of your favorite features when riding your bike.
Obviously, we went to Amazon and searched for some recommendations. And we weren't disappointed by what we found!
Don't miss: iPhone 8 screen protectors, wallet cases and car chargers.
These are some of the best iPhone 8 bike mounts, also compatible with iPhone 8 Plus and iPhone X:
1. Vibrelli Universal Phone Mount
The beauty of this first entry in our top is that it's not just an iPhone 8-exclusive mount! Yes, you got that right, the Vibrelli Universal Phone Mount works with more phones, fitting any device up to 3.7″ inches wide, as well as handlebars with diameters between 0.9 and 1.3 inches.
Otherwise, it's extra strong and has an adjustable clamp, with silicons bands, gripping your phone firmly. It's also very flexible, so you can rotate and adjust your device to any angle or position, thanks to the special ball and socket design. Seems like a great pick, isn't it?
2. Spigen Velo A250 Bike Phone Mount Holder
These guys don't make just cases, since they have some cool accessories in their portfolio as well! Take the Spigen Velo A250 Bike Phone Mount Holder, who is definitely one of the best iPhone 8 bike mounts, but it can also hold other devices, up to 3.5 inches in width.
It offers an adjustable viewing angle with 360 degrees rotation and you can put it on bike handles up to 1.4″ in diameter. And you don't need to worry about the phone falling off, since the clamp application tightens in just a few twists on its bolt.
3. Quad Lock Bike Kit
Moving on, we have the simple, yet efficient, Quad Lock Bike Kit, introduced by the manufacturer as the lightest, strongest and most secure of the iPhone 8 bike mounts. It has a patented dual-stage locking mechanism, ensuring that the device is held securely to your bike.
It's an ideal mount for those who use the phone for apps like Strava or to navigate via GPS, but don't want to miss a call or text.
The mount can be used with Stern or Handlebars, with the tube diameter from 25-40mm and it comes with a slim and protective case for the phone, a weather resistant poncho, as well as mounting hardware. Definitely an excellent choice for those who want to maintain a simple look for their bike.
4. Morpheus Labs M4s Bike Kit
The Morpheus Labs M4s Bike Kit is a high quality bike mount with a patented magnetic auto-rotating quick lock system, fitting all handlebars, from 22mm to 32mm. Basically, you can fit it on a regular bicycle, mountain bike or even a downhill bike.
It's a MIL-STD-810G certified model, so even if it falls down (which is less likely) your phone will remain safe. But hey, it's an ultra strong lock, so it's extremely safe!
Very easy to install and with no assembly required, you can put it on the bike in less than one minute. As for the case itself, it doesn't add any bulk to the phone, maintaining a slim profile. And it's available in a lot of cool color combinations, including our favorite, Black and Orange.
5. Roam Universal Phone Mount
The next entry in our selection of iPhone 8 bike mounts is the Roam Universal Phone Mount, fitting bikes with handlebar sizes from 7/8″ to 1-1/4″ in diameter. And it works with a lot of other phones as well, thanks to the silicone net, gripping around each corner of the phone.
Using two points of contact, the mount will securely mount your device to your handlebar. The premium hard plastic it's made of is extremely strong and durable, while the silicone net stretches up to 4 times itself, so it will secure your phone on the wildest of adventures!
6. Spigen Velo A252 Bike Phone Mount Holder
If you're a fan of the brand but the previous entry in the top seems a bit too much, you can try the Spigen Velo A252 Bike Phone Mount Holder. The main difference is that it has a turnable magnetic frame, offering an adjustable viewing angle. Yes, you can easily and quickly attach and detach your phone from it!
You can use it with other phones as well, not just the iPhone 8, while the handlebars on which it can be mounted can have diameters between 0.71″ and 1.57″. There'a strong and tight bar grip as well, with silicone padding, so you don't need to worry about scratches.
7. CAW.CAR Accessories Bike Phone Mount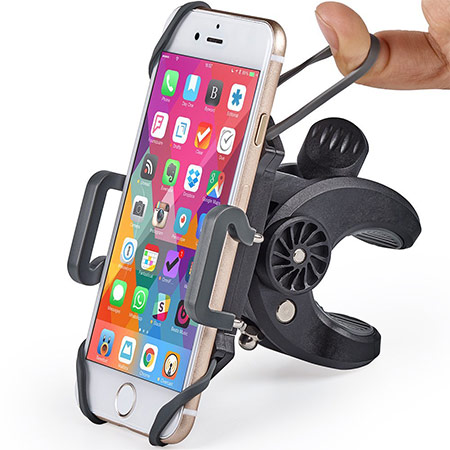 Last but not least, we have the CAW.CAR Accessories Bike Phone Mount, which fits and bike or motorcycle with tubular handlebars and a diameter between 0.6″ and 1.5″. And you don't need any tools to install it!
It has an extra secure and shock absorbing rubberized clip, with silicone belts, which grips the phone firmly and securely, holding it tightly and being suitable for any type of ride, no matter how extreme it is. You can also adjust the grip to any angle and have full phone access, including on the side buttons.
And we're all done, bike fans! These are some of the best iPhone 8 bike mounts. Once again, most of them are suitable for other phone models as well, the only things you need to consider when picking one is the diameter of the handlebar of your bike. Therefore, we're sure that you will find a model you like in our top. Because we definitely did!
There's no doubt that we would totally pick this model over any other iPhone 8 bike mounts. Besides the simplicity of the system, which has a nice self-locking module, we really like the fact that it's actually a hardcore case for the phone, passing the MIL-STD-810G standards, so the phone remains safe, in the eventuality of a drop. And it looks very good in that combination of Orange and Black.
But what about you guys? Which one of these models would you pick for your phone and why? Let us know, by dropping a few lines in the comments section below!