A leather case will always make your phone look very good, especially if we're talking about the iPhone 7. You can opt either for a classical model, a wallet case, or maybe a sleeve, if you want to enhance the amount of protection.
Sleeves are definitely a very classy approach to classical cases and you can find some great models on Amazon, but it can be very hard to decide upon on, since a lot of them look very good.
Lucky for you, we did all the hard work, as we picked seven of the best iPhone 7 sleeves and put them in a list!
Don't miss: Best iPhone 7 wallet cases, car chargers, bike mounts and docking stations.
Let's begin, shall we?
1. Solo Pelle Leon Genuine Leather Sleeve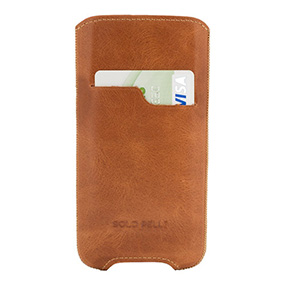 We're starting with a very practical iPhone 7 sleeve, which besides protecting your device, it also has a business card compartment, so you can carry a few of them all the time.
It's made from genuine leather and it provides access to all ports, button and microphone with ease. You can get it in Black or Brown, for $27.90.
2. Ufox Felt iPhone 7 Sleeve
Definitely an interesting accessory, thanks to the material it's made of, this elegant, slim and compact case is soft and eco friendly, protecting your phone against scratches and everyday tear.
It also includes a small pouch, able to hold a credit card, ID or some cash. It has a ridiculously low price, of just $7.98 and it can fit other phones as well, as long as they're not bigger than 4.7".
3. Getron iPhone 7 Sleeve
The next iPhone 7 sleeve we found comes from Getron and it also fits multiple devices. It's made of premium PU leather, very durable and with a nice feeling, with a soft fiber interior, protecting the phone from scratches, bumps and shocks.
Thanks to the integrated elasticated strap, you just need to pull it and your phone will be removed from the case. You can get one for $14.99.
4. Modos Logicos Ultra Slim Sleeve
Even though it's made of faux leather, there's no doubt that this iPhone 7 sleeve looks very good!
It has a minimalist design and a pull strap, so you can easily pop the phone out of the case. You can get it in Pink, Black, Brown and White, for as low as $5.99. Isn't this a bargain?
5. Sena iPhone 7 Sleeve
Next, we're looking at a very elegant sleeve case for the iPhone 7, made of genuine leather. It maintains a slim profile for your phone, as it doesn't add unnecessary bulk.
It's lightweight and features a microsuede lining, so you don't need to worry about any scratches, since it fits the phone perfectly.
At $39.95, it's a bit costly, compared to other models, but it's worth every penny!
6. fitBAG Fabric iPhone 7 Sleeve
How about a really nice fabric case for your iPhone 7? For $17.9, you can get this great model from fitBAG, with a soft lining and able to deal with simple drop protection, as well as scratches and other impacts.
In order to release your phone, simply pull the cord and you're done.
7. Dockem Padded Sleeve Case
Finally, the last iPhone 7 sleeve in our top comes from Dockem and it's made from dark brown synthetic leather, lined with soft microfiber felt that will protect your phone from dust and scratches, not to mention that it helps cleaning the screen as you slide it in and out.
It's padded on the inside, just enough to protect from minor drops and bumps, while still maintaining a slim and sleek profile. You can get it for $11.99.
Our pick
Ok, so now for our favorite. Even though all these models look very good, our top choice would be Solo Pelle's Leon Genuine Leather Sleeve. A big plus is the fact that it's made from genuine leather, as well as the extra credit card slot, which can also be used to carry some money around, so you can forget about carrying your wallet with you all the time.
But what about you? Which one of these iPhone 7 sleeve cases would you buy? Let us know, by dropping a few lines in the comments section below!